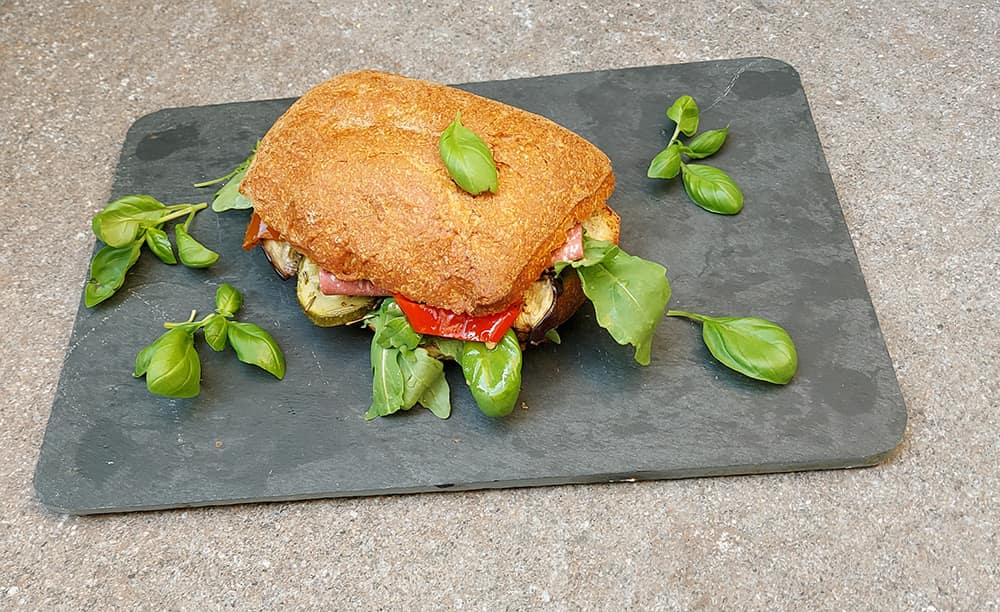 Northern Italians like to use round focaccia or square ciabatta as bread and top it with ruccola, Tuscan fennel salami (finocchiona) or classic porchetta.
In southern Italy we often find Pane Mafalda, topped with capocollo, pecorino and vegetables such as mushrooms or fresh tomatoes.
Our suggestion is a classic. Ciabatta topped with prosciutto, mozzarella and arugula.
Ingredients
2 ciabatta
30 g ruccula
50 g of Parma ham
50 g Italian salami
1/2 mozzarella (sliced)
grilled zucchini
a few basil leaves
50 g pesto
Open the ciabatta and spread it generously with the pesto. Then spread the ruccula, prosciutto and salami on the bread. Then place the mozzarella, zucchini and basil on top and top with a little pesto.
Finally, bite down and enjoy.
As always, we look forward to your comments.