Finally, the Spencerhill Festival is coming to Italy! In 2023 all of Europe will celebrate our heroes in the country of their birth.
July 27-30, 2023, the Spencerhill people will invade the green heart of Italy for a big party: we all meet in Gubbio, in beautiful Umbria, practically at the home of the event's patrón Terence Hill!
In addition to a four-hectare area exclusively dedicated to our festival, the entire Umbrian city will be involved with attractions and meeting places scattered throughout the city center. The people of Gubbio know how to party: guaranteed fun!
On our Spotify playlist you'll find the best tracks on the theme of Bud Spencer and Terence Hill anyway. But also 5 bands you will see live in 2023. Most likely La Bionda, Franco Micalizzi with orchestra, the Oliver Onions as well as the tribute bands Dune Buggy Band with their home advantage in Italy and the Spencer Hill Magic Band from Hungary. For the first time, Don Bastiano, who wrote the soundtracks for the Bud Spencer Museum and our festivals, will also be there in cooperation. Just listen in and follow us.
We will transform Gubbio's ancient Roman Theater into an open-air cinema and contest area. There will also be the big main stage, the inevitable Ferris wheel, many food stands, attractions and areas dedicated exclusively to children with special entertainment programs. We will also provide shaded areas for shelter from the July sun.
t will be possible to pitch your own tents in the two acres of the Spencerhill Camp or stop with your camper in a dedicated area within the city walls and a stone's throw from the Festival area. You will fall in love with Gubbio and together we will continue to write Spencerhill history.
So many guests as in 2023 you will never see them. We want to bring maestro Franco Micalizzi with his orchestra, the Oliver Onions and the La Bionda brothers to Gubbio. Of course, the Spencer Hill Magic Band and the Dune Buggy Band, who have been accompanying the festive nights of our gatherings for years, will not be missed.
Bulldozer, Bomber, Trinity and many other films. We will bring together in Gubbio the protagonists of the most famous films, and Bud & Terence's family members will also be present. It will be possible to meet the guests in the beautiful Luca Ronconi Theater and exchange a few words with them.
Spencerhill Festival 2023 Mappa
Gubbio and Umbria are the ideal destination for a weekend of nature, culture and fun: Rome, Bologna, Florence, Naples can be reached in a few hours. You can also take the opportunity to sample Terence Hill's ice cream at Gellateria Girotti in Amelia.
There are only 5,000 tickets available for the Spencerhill Festival 2023. At this time where all prices are rising we are going against the tide: the weekend ticket will cost only 65 Euro (Early-Bird. later 79 Euro). The day ticket costs 25 Euro (Early-Bird. later 29 Euro) and children pay one Euro per year of age up to 17 years.
Pre-sale will begin in early July 2022.
See you in Gubbio!
The Spencerhill Festival Team
Trailer 2023 III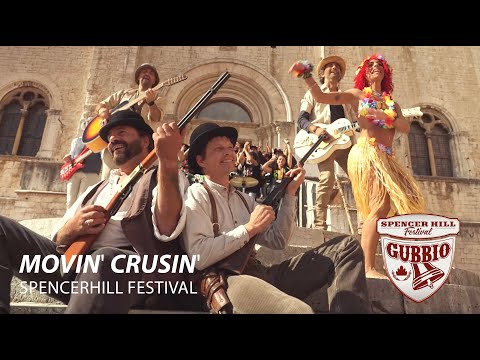 Trailer 2023 II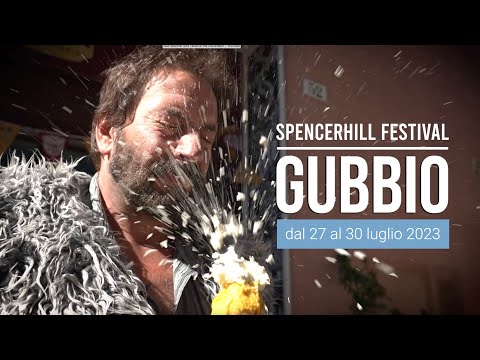 Trailer 2023 Italiano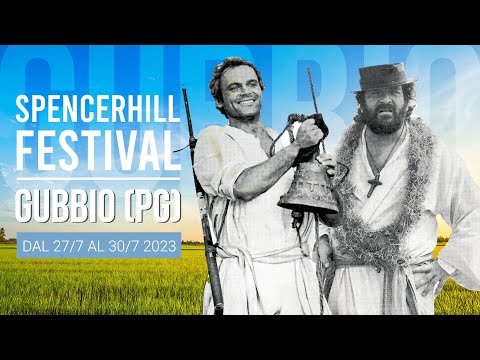 Trailer 2023 German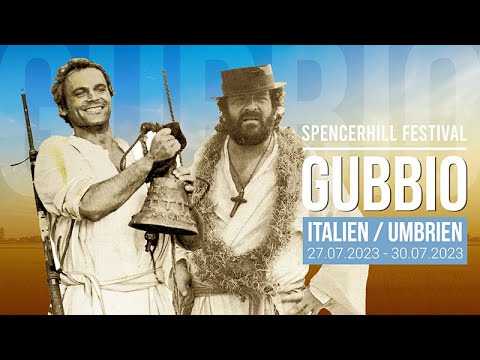 Festival Shortmovie